What is a CNA?
Find schools and get information on the program that's right for you.
Powered by Campus Explorer
Ever wondered what is a CNA? This three letter word stands for certified nursing assistant, which is an occupation that deals with helping the elderly and patients that need assisting with daily living activities. CNAs are vital members of the health care field and have unique responsibilities and duties that no other position provides. Today we'll talk more about what is a CNA, their role in the workplace, and much more.
What is a CNA?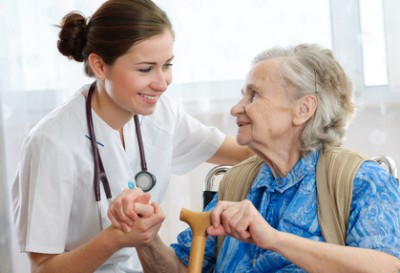 As we've already said, a CNA is a certified nursing assistant who helps the elderly as well as patients who need help with daily living activities. CNAs typically perform under the guidance of a licensed practical nurse or a registered nurse. A CNA's tasks may change on a daily basis depending on the patient they are helping to assist, but most duties will revolve around assistance with things such as bathing, dressing, moving, re-positioning,  eating, toiletry, testing vital signs, making measurements, and oral care for patients who cannot perform these tasks alone. Not only that, but CNAs are a source of physical and emotional support for patients, and helps to provide companionship and mental support when they need it most.
Other tasks and responsibilities can include:
Move patients around / re-position patients
Change bed pans, replace linens, collect laundry
Measure patient's vital signs
Maintain reports for nurses
Help communicate with patients and educate them
Perform safety procedures in emergency situations
Collect stool or urine samples for tests
Administer medications and treatments
Feed patients who cannot feed themselves
Prepare, serve, and collect food trays
Help patients to exercise
Answer telephones
CNAs interact with patients directly on a daily basis, and engages in friendly conversation to help patients feel comfortable. Certified nursing assistants need to stay alert and able to respond to a patient's needs at all times, as well as making sure to measure vital signs and record observations or complaints. It may not be the most glamorous job, but CNAs are crucial members of the team and provide a much needed service for patients in need. If you want to become a CNA, you have to have a caring, patient, and friendly personality to help patients enjoy their days. Now that we explained what is a CNA, let's move on to where they work.  
Where Do CNAs Work?
The majority of CNAs work in nursing care facilities and hospitals (about 70%). Although, CNAs are also employed in home care facilities, employment agencies, community care facilities, nursing homes, rehabilitation centers, hospices, urgent care centers, pediatric offices, physicians offices, and medical clinics as well.
Now that we covered what is a CNA, we can explain the process it takes to become one.
In order to become a CNA, you will have to complete a state approved CNA class that combines both a classroom lecture portion and a clinical and laboratory training portion. You will then have to take a state certification exam and pass in order to become an official CNA
. CNA classes are offered both on campus like traditional schools and in blended programs which combine an online portion and an on campus clinical portion. If you'd like to learn more about
CNA classes online, visit this page
. Typical CNA classes last anywhere from 3-12 weeks or up to 6 months for longer programs. Before you can enroll, you will have to meet a few requirements (high school diploma, 18+ years old, etc.). CNA classes typically aren't too expensive and training from community colleges or online offer the least expensive options.
Advancement Opportunities
There are not many advancement opportunities for a CNA, although you always have the option to go back to school to either become a licensed practical nurse (LPN) or registered nurse (RN). What's great if you are already a CNA is that your credits you earned can be counted towards your education to a higher position, which will shorten the amount of time it takes for classes as well as allows you to continue working as a CNA while you finish your education.   So yes, we hope that answered your question of "What is a CNA?" and we hope you learned a lot about what the job is as well as any other questions you might have had.
Related Posts