How to Become a CNA
Wondering how to become a CNA? As a CNA you will be providing health care services to patients and residents, but there are a few requirements you will have to meet first. In order to become a certified nursing assistant you must obtain CNA certification by
completing anywhere from a state mandatory 75 hours up to 180 hours of state approved nursing assistant training AS WELL AS completing a state approved comprehensive exam
. Requirements can vary from state to state however–such as how many hours of training you must complete–so make sure you know what your state demands from you. After receiving state certification you will be able to apply for a job at any of the following settings:
Nursing homes
Home health aide agencies
Assisted living homes
Retirement facilities
Urgent Care Centers
Hospitals
Hospices
Pediatric offices
Physician/Doctor offices
Medical Clinics
How to Become a CNA
In order to qualify for state approved nursing assistant training and earn state certification, you must meet the following requirements:
Be at least 16-18 years old (depending on state)
Have a high school diploma or equivalent (i.e. GED)
Be fluent in English
Be physically fit
Once you are enrolled in a CNA certification program, you will be required to complete a certain amount of hours split between didactic teaching and clinical training (laboratory training and hands on instruction). A mandatory minimum of 75 hours is required on how to become a CNA. Didactic training can be completed online from a state approved program or at various on campus sites such as community colleges, vocational schools, technical colleges, hospitals, or other institutions that offer state approved CNA training. For clinical training you will have to complete the required hours on campus. Online CNA certification programs will require on campus laboratory training and hands on instruction, and these programs are often referred to as blended programs. Free CNA classes can often be found from places such as nursing homes or the Red Cross, but it will have to be state approved if you want to receive state recognized certification.
A CNA class may or may not cover the following topics and can last anywhere from 6-12 weeks up to 6 months:
Didactic instruction:
Patient privacy and rights
Basic human anatomy, physiology, and nutrition
Medical terms
Mental health care
Roles and responsibilities
Legal issues
Skills:
Basic patient care – bathing, moving, feeding, oral care, dressing, and grooming
Special needs care
Restorative care
Communication skills or social skills
Stress management
How to measure vital signs
CPR skills
Documentation skills
Dealing with emergencies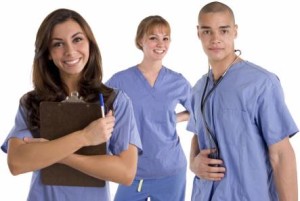 CNA classes will focus primarily on making you a successful certified nursing assistant, but can vary depending on what setting you are choosing to work in as well as where you choose to obtain training. You can expect to do a good amount of reading, so attendance is extremely important. This is pretty obvious if you want to know how to become a CNA. There will also be a certain amount of clinical hours you will have to complete as we've explained earlier, so remember that practice makes perfect. You will be expected to apply newly learned skills on patients where you will be supervised by an instructor (most often a registered nurse). There is also a state competency exam you must complete in order to obtain CNA state certification. It will cover both your knowledge and skills, and is taken in two parts: the written portion and the clinical portion. The written portion will cover your nurse assisting knowledge and will consist of anywhere from 55 – 70 multiple choice questions. On the other hand, the clinical portion will test your competency of skills–usually between 3 to 5 skills.
After completing the exam you will be told whether you have passed or failed. If you were nervous during the clinical portion of the exam and made a mistake, you can ask to re-demonstrate your competency. If you happen to fail don't worry! You can always re-schedule to take the test again while you study and practice your skills in the meantime, but remember that some states have a limit of how many times you can re-test.
How Much do CNA Classes Cost?
This can really depend but most state approved CNA classes are generally cheaper from community colleges while trade and vocational schools are more expensive. Online CNA certification is also an option that is generally cheaper.
CNA classes generally cost anywhere from $200 to $2000 and can vary in length
. CNA classes can last anywhere from 6-12 weeks all the way up to 6 months. The length can also differ depending on if you choose to attend part time or full time. It can be assumed that longer CNA training programs offer a more comprehensive education. Just remember, make sure that the CNA class you sign up for is recognized by the state you live in or else you could risk not receiving state certification.
That's basically how to become a CNA, we've covered the most important areas you need to know but it's up to you to decided whether this is the right career for you.
Kaplan University is focused on recognizing the achievements of military and veteran students and offers the flexibility of an online education. Eligible students can receive college credit for prior military experience and coursework—up to 75 percent of the credit needed for a Kaplan University undergraduate degree.*
You're serious about success. With your busy schedule and the desire to move your career forward, you can earn an accredited associate, bachelors or master's degree at a pace that works for you anywhere, anytime, 24/7.
At AIU, the Serious U, you can get started to get ahead.
Programs:
Master's – Healthcare Management
For over 110 years, Northwestern College has been proud to help students like you succeed. Offering career training that will fit your busy schedule, we have continually shaped our curricula to meet the growing and shifting demands of today's workforce.
Fortis Institute can give you the skills you need to train for a career in the healthcare field.
* Programs vary by location
* Please contact each individual campus for accreditation information
Discover the power of ONE COURSE A MONTH® to fit education into your busy life. Brown Mackie College's ONE COURSE A MONTH® schedule lets you focus on your course work one subject at a time.
Programs:
Diploma in Medical Assistant
Ohio University has offered distance learning educational opportunities for more than 100 years. Our nationally-ranked graduate programs provide flexible opportunities to students around the globe
Programs:
Online MSN Nurse Educator Degree
Give your career a boost with an education from Southern New Hampshire University. We offer certificates, bachelor's, master's, and doctoral degrees in over 100 programs in a wide variety of subjects.
Programs:
MS Nursing
MS Nursing: Patient Safety and Quality
MS Nursing: Clinical Nurse Leader
And more...
Regent University prepares students with the knowledge to excel and the faith to live with purpose. Our 20,000 alumni, from more than 110 countries, are changing the world as accomplished professionals. Named a top-15 school nationally for online bachelor's programs (U.S. News & World Report, 2015), Regent is among the most affordable undergraduate Christian colleges (CCCU 2015). Fully accredited, challenging programs are available online and on campus. New classes begin every eight weeks.
Programs:
Bachelor of Science in Nursing (RN to BSN)
Earn your graduate degree online with Northcentral University. We offer online programs focused on doctoral and master's degrees in the schools of business and technology management, education, psychology and marriage and family sciences.
Programs:
Doctor of Education - Nursing Education
Earn your Master's degree online from a prestigious and innovative university. Norwich University offers programs in Justice Administration, Civil Engineering, Military History, Business Administration, Diplomacy, and more.
Programs:
Master of Science in Nursing Online