Free CNA Classes
Find schools and get information on the program that's right for you.
Powered by Campus Explorer
If you want to get CNA training without the hassle of paying for tuition or looking for schools, you can try to find free CNA classes in your area that will teach you the broad strokes of the career. Something to note however is that most free CNA classes are not approved by most states as qualification for state certification. These classes are only meant to  teach you the general overview of a CNA's job and does not provide any clinical or laboratory training, which is sorely needed
and
state mandatory if you want to become an official CNA. So with that being said, let's talk more about where you can find free CNA classes.
Free CNA Classes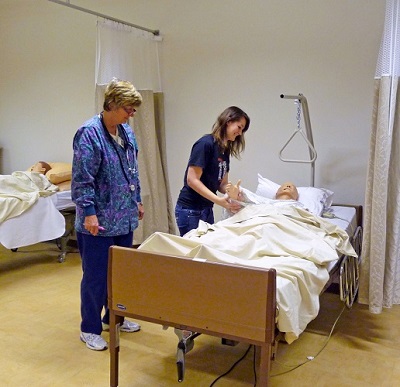 There are a few places that offer free CNA classes, but it might take a little looking for as they differ from state to state. Also note that not all CNA classes that are described as "free" are always completely free. There may be a little give and take involved, where some places will require you to work for the training or something along those lines. Case in point is that you need to know what you're getting into, and when you're signing up for free CNA classes, be sure that they don't have any hidden catches.
Red Cross
The Red Cross offers free CNA classes to select areas, and yours might be one of them!
Hospitals / Nursing Homes
Some hospitals and nursing homes offer free CNA training to those who are prepared to work for them after the training period. You may also have to agree to work for them while you receive training. You can find out if any hospitals or nursing homes in your area offer free CNA classes by calling them.
On the Job Training
You may be able to find a job that offers free on the job training. This has a number of benefits, such as being paid while you receive training. You can find out if any jobs offer on the job training by inquiring at any of the following places in your area:
Nursing homes
Home health aide agencies
Assisted living homes
Retirement facilities
Urgent Care Centers
Hospitals
Hospices
Pediatric offices
Physician/Doctor offices
Medical Clinics
Unemployment Agencies
Some unemployment agencies will fund for free CNA classes if you happen to be unemployed and unable to pay for training. Ask your local unemployment agency for any opportunities, which could potentially save you hundreds or thousands of dollars.
Scholarships
Although you'll be signing up for a paid CNA class, scholarships can help you pay for the costs. You can look online or inquire the State Department of Public Health for any scholarships that are applicable to you.
If all else fails you always have the option of signing up for paid classes. Most  CNA programs that you pay for are recognized by the state you live in and allow for state certification. Normally the cost of classes aren't too high, many can be found anywhere from $200 up to $2000. Generally, community colleges offer CNA classes that are cheaper than most other institutions. You can also opt for online CNA classes, which are for the most part less expensive than most normal on campus programs.
Related Posts